Community Matters. Our vibrant arts community is made up of many partners when combined make Stuart and all of Martin County a more vibrant place to live, work and play.
This past year, COVID-19 has tested the strength of our partners. Through this adversity, the partners have collaborated, connected, and built a stronger foundation. For ArtsFest 2021, we wanted to showcase the many and varied ways the arts community is bringing the arts to your life. Some of our partners promote artists, while other teach the arts. Each in their own way, they elevate the arts.
ArtsFest 2021 is, and always has been, a celebration of the arts – music, visual arts, culinary and more. From our beginning in 1988, that core belief – that ArtsFest celebrates the arts - continues to drive our passion. Whether you join us in person or via "ArtsFest at Home," you'll have a chance to show your love for creativity and the arts!
---
Hidden Turtle Scavenger Hunt
Martin County Tourism is hosting a scavenger hunt for glass turtles, made by Palm City based glass artist, Dot Galfond. The turtles can be found after February 1st scattered at cultural venues, art in public places venues and other popular spots in Martin County. Find a turtle and register to for a chance to win a beautiful glass turtle bowl, also created by Dot. Not lucky enough to find a turtle? You can purchase raffle tickets, proceeds shared by Florida Oceanographic Society and the Arts Foundation for Martin County, for a chance to win one, too!
---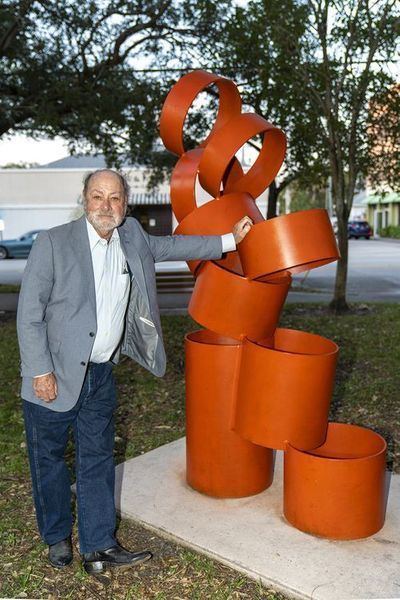 Gresko at Gazebo Park!
ArtsFest proudly celebrates all the arts organizations and artists in our community! This year's premier community partner is Martin County's Art in Public Places Program. Not only do we have colorful contemporary sculptures placed around the Gazebo by Gary Gresko, but we are offering a chance for you to help create a tile mosaic mural of a loggerhead turtle! Led by artist, Brenda Leigh, attendees have a chance to lay some glass tiles and be one of the hundreds of artists who make this mural. It will be installed and become a part of the AIPP's permanent collection! Check out the community partners section at ArtsFest at home to learn about the many organizations that make up the mosaic of our cultural community.
Artist Gary Gresko pictured with his sculpture "Return to Spring' recently installed at Gazebo Park, Downtown Stuart.
Photography by Liz McKinley